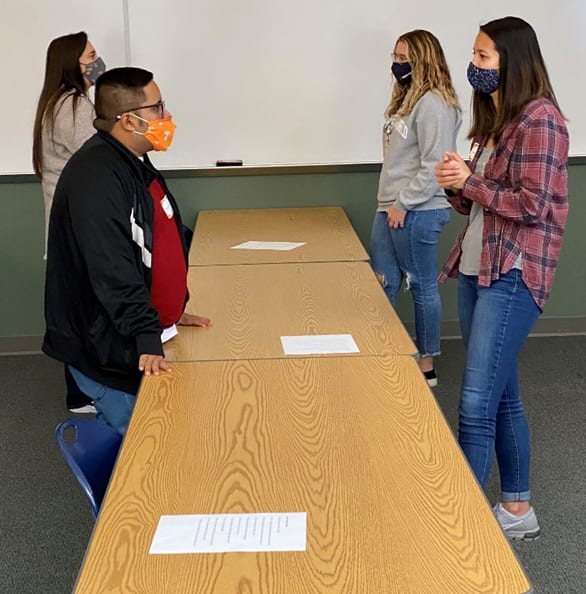 By Herbert College of Agriculture Associate Dean John Stier and AgResearch Associate Dean and Professor Dave White
Graduate school can be a demanding and uncertain period for students, even in the best of times. Throw in a global pandemic, mask requirements, and being separated from family and friends, and it becomes all the more difficult.
That's why after fall semester finals, AgResearch and the Herbert College of Agriculture offered a mindfulness workshop specifically for our graduate students. With a goal to foster connection and manage stress, a small group of students gathered safely in person, with more attending online.
After a welcome from each of us, the students got to know each other by meeting one-on-one in socially distanced "speed greeting" rounds. UT Graduate School Dean Dixie Thompson spoke, encouraging and reminding students to take time off and do activities they enjoy to help manage stress. She reminded us of one of coach Pat Summit's famous quotes, "Left foot, right foot, breathe."
Associate professor Heather Sedges (Department of Family and Consumer Sciences) led a presentation on mindfulness techniques that can be used by anyone, nearly anywhere, including a three-minute body scan activity. After an introduction to the physiology of stress and its effect on the brain, she guided the group through the four steps of mindfulness: recognizing stress, defining its severity, developing and using a strategy to address it, then resetting and moving on. Sedges also created a stress management website where more resources are available.
We'd like to give special thanks to graduate students Ekramul Ehite (Department of Biosystems Engineering and Soil Science), Shelly Pate (Department of Entomology and Plant Pathology), Dailee Metts (Department of Forestry, Wildlife and Fisheries), and Madison Henniger (Department of Animal Science), who helped plan the event. Additional thanks go to Anderson Farms for preparing hot holiday meals for our students to take home at the end of the workshop. For more information on mindfulness practices and how they might benefit your life, we encourage you to visit mindful.org, or explore an app like Calm, Insight Timer, or headspace.