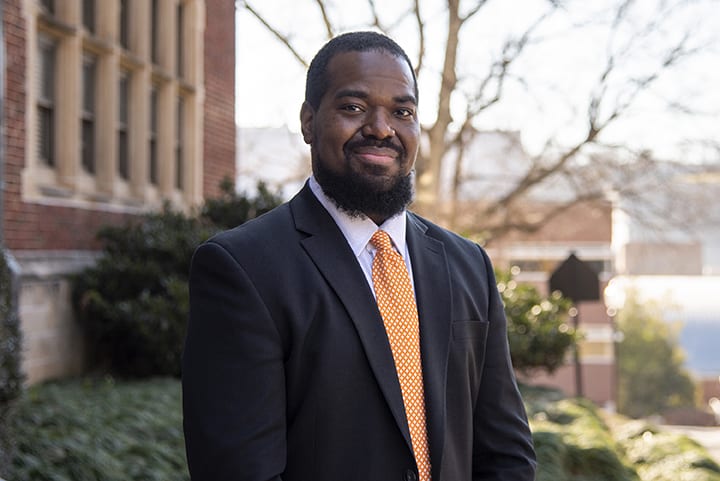 ---
What excites you most about stepping into this inaugural position as director of diversity, equity, and inclusion (DEI) for UTIA?
I look forward to working with stakeholders across the Institute to cultivate a culture that truly embraces diversity, equity, and inclusion. As the inaugural coordinator for student life and diversity in 2013, I was fortunate to develop successful programming that truly benefited students from all walks of life as they transitioned to and through the Herbert College of Agriculture. In that same vein, I look forward to this inaugural position because I'll have an opportunity to take my previous strategies and methods and apply them throughout the Institute in a manner that benefits not just our students, but our faculty, staff, researchers, and Extension agents across the state. UTIA prides itself on promoting innovation through teaching, discovery, and service, and we will continue to emphasize those same principles through diversity, equity, and inclusion work.
Lastly, it's important to note that I will not be able to do this alone. Although I will be stepping into this new and exciting role, I hope to develop allies across the entire state who will partner with me to create safe, inclusive, and welcoming academic and work environments for all stakeholders as we work together to develop Real. Life. Solutions.
---
What necessitates this position at UTIA?
The Institute of Agriculture is leaving a lasting impact throughout this state, the nation, and the world. Our work—in the classroom, in the lab, and in the field—continues to promote innovation and discovery. While we continue to see great accomplishments, it's necessary to ensure that our daily operations reflect both equitable and inclusive policies and guidelines that benefit both our employees and those that we serve. That's why this position is necessary. I hope to strategize with colleagues throughout the Institute as we create resources, programs, policies, and strategies that truly benefit all stakeholders. It won't happen overnight—but I look forward to laying the groundwork for a brighter tomorrow!
---
What's one small action that someone can take to be a part of DEI efforts on our campus?
Be open-minded. As with anything new, one must be willing to review the intentions behind the endeavor and understand its relation to the overall goal of the organization. In the same manner, I hope that everyone will understand the importance of DEI work and make their best attempt to be open-minded to our resources, programs, training opportunities, and collaborative endeavors as we promote the mission, goals, and values of the Institute.
---
What's one thing you'd like your colleagues to know about you and/or this position?
I want everyone to know that Craig is not (and will never be) the ultimate guru for every single area of concern regarding DEI. I will always seek allies to assist with our programs and outreach endeavors. The beauty of our Institute is that it encompasses bright and ambitious individuals from all walks of life with unique perspectives, stories, beliefs, ideas, concerns, and possibilities—and I want to hear from you! I hope that you will join us in this effort as we continue to create a better tomorrow for all stakeholders. 
---
What do you enjoy doing in your free time?
My free time is extremely limited these days. Beyond my regular nine-to-five job, I am a father, husband, doctoral candidate (University of Tennessee), and a small business owner of a career consulting firm. As such, I barely understand the concept of "free time." But when I find those rare minutes throughout the day, I like to rest and enjoy those wonderful moments with my loving wife, Porschia, and two-year-old daughter, Carrington Ann.