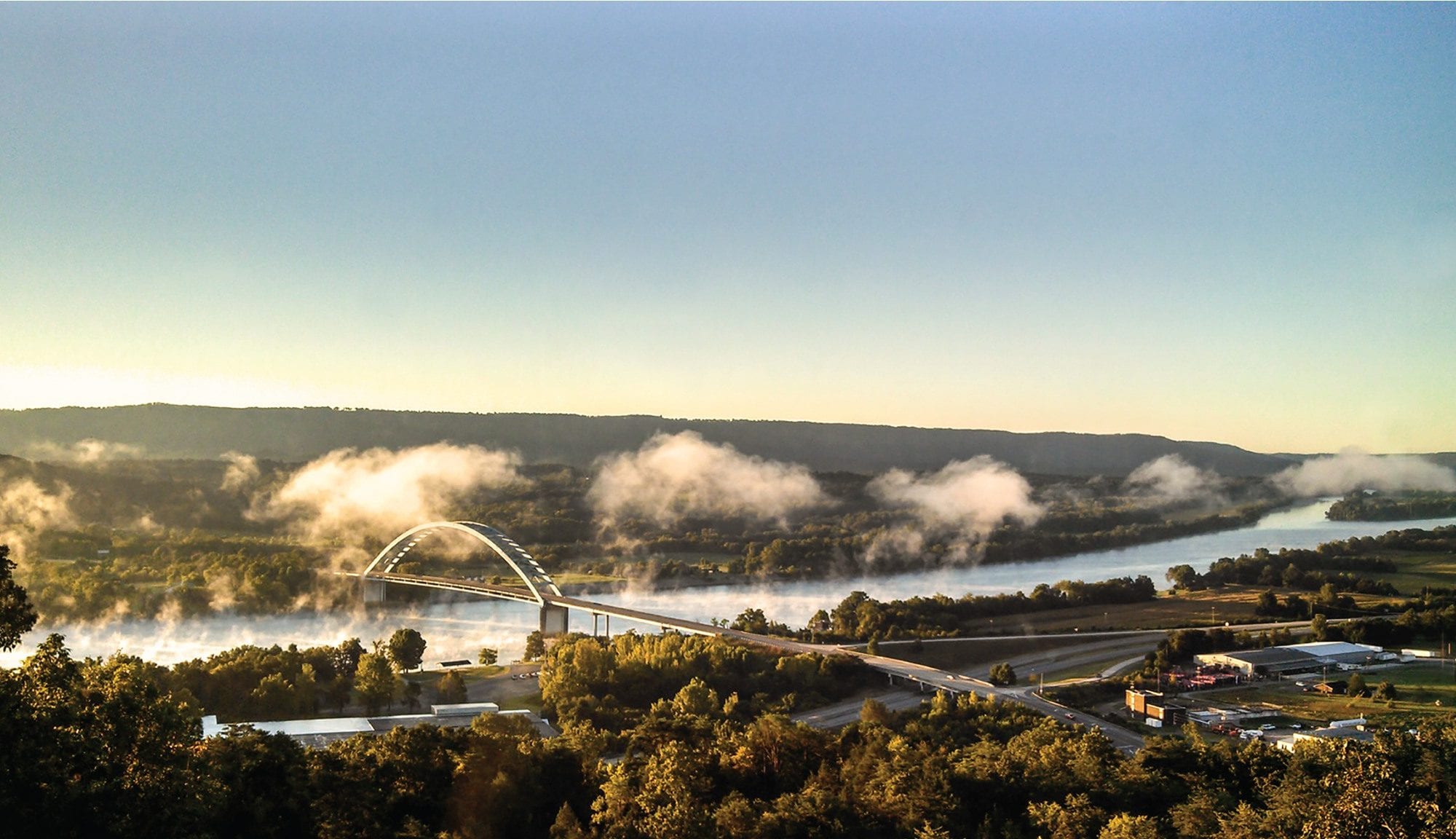 "Follow any road in Tennessee, and you'll find people whose lives have been influenced by Extension's educational programs."
Just as its website proclaims, UT Extension creates meaningful, tangible results in all ninety-five counties in the state. Extension's mission creates a ripple effect that lifts up businesses, families, farmers and ranchers, and, quite literally, every Tennessean. At its core, Extension is about community engagement and empowerment.
In that same vein, an exciting new development has occurred over the past few years, one that holds vast opportunities to spread the Extension mission and vision even further—from the banks of the Tennessee River.
The Tennessee RiverLine Project is an ambitious, forward-thinking partnership that is working to create a significant regional trail system, not only on gravel and dirt, but on our waterways. The Tennessee RiverLine will enhance the 652-mile Tennessee River, from Knoxville, Tennessee, to Paducah, Kentucky, by creating a continuous network of paddling, hiking, and biking experiences. Touted as "the vision for North America's next great regional trail system," the project is designed to challenge shoreline communities to rethink their relationship with the river, provide economic development, cultivate new generations of stewards, increase awareness, and improve equitable access to river experiences.
The project is is led by the UT School of Landscape Architecture, a joint venture of the Herbert College of Agriculture's Department of Plant Sciences and the College of Architecture and Design. Brad Collett, associate professor in the department of plant sciences who has a faculty appointment in the School, directs the project and taught the student who initially came up with the idea for the Tennessee RiverLine.
What partnerships lie in the future for the Tennessee RiverLine and Extension? While it's too early to say, enormous potential exists for new Extension and 4-H programs, internships, and research sites in Tennessee RiverLine counties. The convergence of these programs' missions has already started, and ripples are already being seen from their efforts.
UT Extension Carroll County agent Amanda Paschall (formerly with Benton County) was part of the driving force behind Benton County becoming a Tennessee RiverLine pilot community in 2019. They are now enrolled in the Tennessee RiverTowns Program, which brings power directly to the community, enabling local inhabitants to discover their own vision for the river, while bringing the benefits of economic development, increased access to outdoor recreation, and increased stewardship. Residents of Benton County have participated in town hall meetings, cleanups, and other opportunities to share their voices and vision for the river.
Paschall believes that Extension offices in Tennessee RiverLine counties could be great assets in planning Tennessee RiverLine events and assisting with the coordination and technical aspects of programming. Additionally, Benton County's Tennessee RiverLine events expanded their public reach and brought in citizens who had not previously engaged with their Extension office. There were opportunities for 4-H youth to help with events, as well. She also notes that the economic development component of Extension works hand-in-hand with the Tennessee RiverLine's mission.
Sam Daniel, a second-year master's student in landscape architecture and graduate of the Department of Plant Sciences, sees the complementary missions of Extension and the Tennessee RiverLine. "A lot about the Tennessee RiverLine goal aligns with Extension in that it's all about outreach, education, and informing the community. Bringing underserved populations back to the river. We've found that a lot of communities don't use the river. We want to help underserved populations and people who don't feel like they have access to the outdoors normally. It serves to educate people and raise awareness about the river."
Daniel now works as an intern for the Tennessee RiverLine, creating publications and graphics for the project, including a trip log for kayakers and paddlers who want to keep track of their mileage on the water.
Opportunities abound for research in human dimensions, stormwater management, biodiversity and conservation, community and economic development, soil mechanics, and more. The possibilities for partnership, collaboration, and advancing a shared mission are endless.
"I think it truly has the ability to become a multi-generational initiative that we'll still be talking about one hundred years from now. We as a region, and as a university, will still be advancing and rethinking this vision in the contemporary context, innovating our land-grant mission of extension upon each step of this journey," says Collett.
For more information or to get involved with the Tennessee RiverLine Project, visit its website at tnriverline.org.