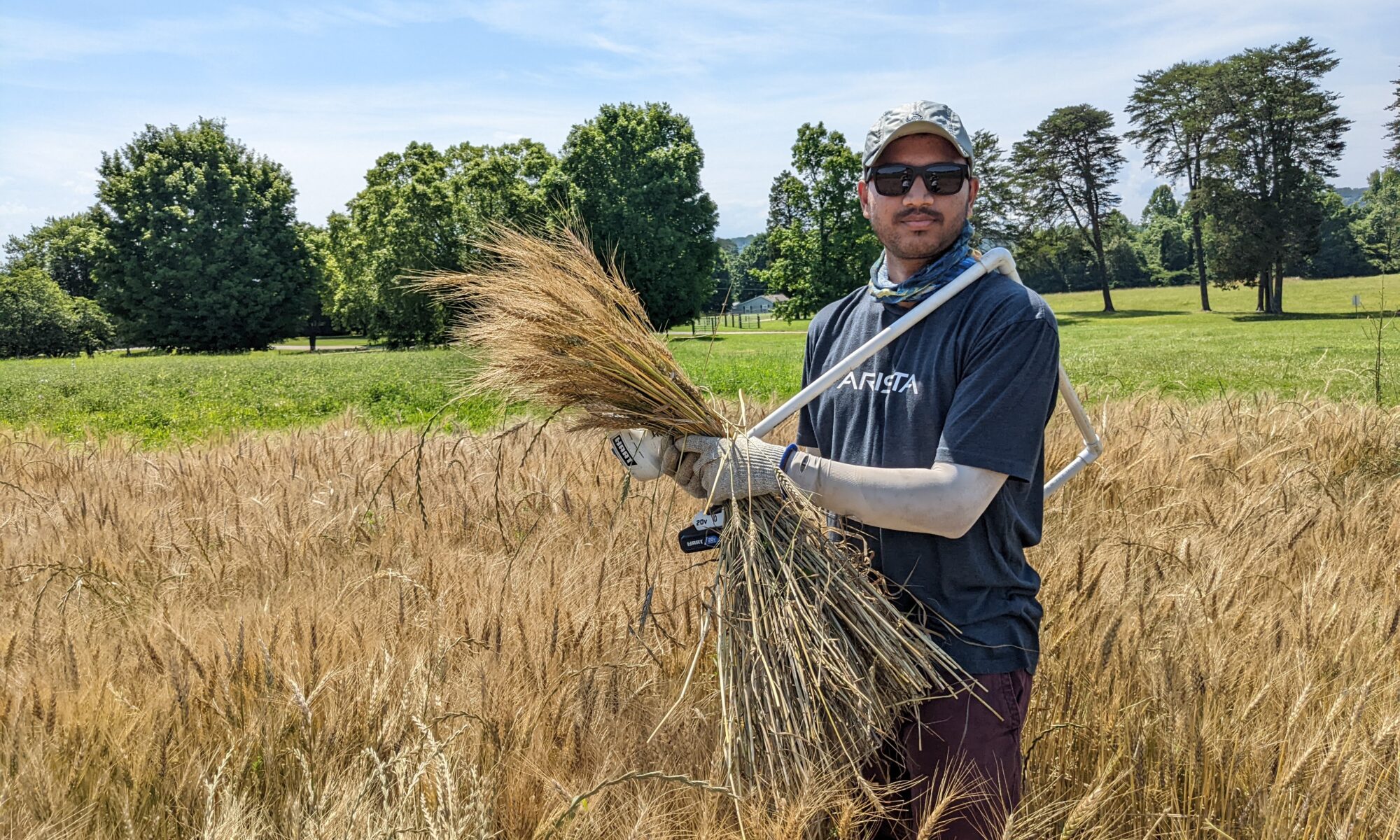 Ravi Neelipally, a PhD student in plant and soil science, received the 2023 Southern Sustainable Agriculture Research and Education (SARE) Graduate Student Research Grant of $16,200 for his work on determining the viability of organic wheat-soybean double-crop systems in the southeastern United States.
More and more farmers are adopting organic farming methods to meet the growing demand for organic agricultural products. Neelipally proposes double-cropping as the solution, which would not only improve resource use efficiency and productivity, but change misconceptions surrounding the feasibility of organic farming.
Originally from Gadwal, in the Indian state of Telangana, Neelipally comes from a strong farming background. His passion for organic farming stems from his father using chemicals and pesticides to grow crops on his family's farm. As Neelipally received more education on the damage chemicals inflict on soil, and how organic methods can produce good yields, he successfully convinced his father to switch to organic farming.
For this research project, Neelipally focuses his efforts in the southeast due to its long growing season, creating the opportunity to grow organic double-cropping systems. By examining the effects of different tillage intensities and cover cropping strategies, the study will identify optimal management practices for implementing organic wheat-soybean systems that enhance productivity, ecosystem benefits, and profitability.
Traditionally, the caveat of organic cropping for farmers is that it typically yields less in a season, making it less efficient and not as feasible. Neelipally's research aims to develop management practices that combat this.
To paint a picture of the feasibility of double-cropping, the average yield for wheat is 55 bushels per acre ($9.12 per bushel). If a farmer cultivates wheat alone, they would earn around $500 per acre in a year. Soybean yields an average of 35 bushels per acre ($28.83 per bushel), resulting in around $1,000 per acre in a year. With a wheat-soybean double crop, soybean yield is slightly lower due to limited resources. However, given adequate moisture conditions and weed management, the double crop has the potential to earn $1,300 per acre.
"Yield varies from crop to crop," and there are certain crops, like soybean and wheat, where you can plant them sequentially and cultivate two crops in a season. According to Neelipally, "Your soil will be healthier if you always have something growing underground."
Paired with double-cropping, Neelipally proposes reduced tillage to prevent soil erosion and improve soil health. Tillage is typically required in most organic systems, but Tennessee cultivates 95.6 percent of soybeans using little to no tillage. By testing reduced and no-tillage options, the hope is to understand the impact of various management practices and mitigate the risks associated with inadequate soil moisture and weed control by utilizing wheat straw as a mulch, thus allowing double-cropping to thrive.
Along with feasibility and soil health, other benefits to reduced tillage and double-cropping systems include a reduction in carbon dioxide emissions, a decrease in land corruption and overuse, and increased productivity. Not to mention the ability to keep up with high demands of organic livestock.
Double-crop soybean in the southeastern states is significant, thanks to ample rainfall and extended growing seasons. Given the scale of organic livestock production in the Southeast, these practices would allow local organic livestock producers to source organic feed from the same area, effectively meeting the needs of the local market. Without consuming organic crops, livestock can not legally be considered "organic."
Within the larger context of research, Neelipally's findings will contribute to biosystems engineering and soil science professor Sindhu Jagadamma's ongoing research on increasing the adoption of organic farming in Tennessee. Jagadamma has been working in this area for the past three years with the support of a grant funded by USDA National Institute of Food and Agriculture (USDA NIFA).
"Mr. Ravi Neelipally is an outstanding PhD student with an inner drive for excellence in research and outreach efforts. His research on agronomic and ecological implications of organic grain production will critically help farmers who are currently following organic practices as well as farmers who are interested in transitioning to organic farming," said Jagadamma.
Neelipally is excited about the implications of the Southern SARE research grant and how it will allow him to extend his research to a fourth year. He expressed, "Since we have this fourth year, I wanted to make the most of it to also test if the organic systems yield positive results following a three-year transition period."
With this research experience, Neelipally hopes to pursue a career in organic systems. He is grateful to the Herbert College of Agriculture for providing opportunities to gain diverse knowledge from various fields, and to faculty mentors, like Jagadamma, for pushing him to pursue such opportunities.
To learn more about Neelipally's research, watch "Organic Crops Conservation Tillage" on the UTIA YouTube channel.