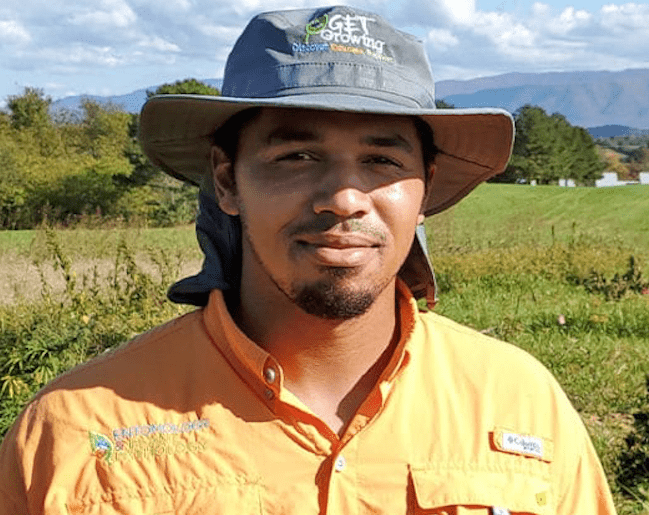 When Julian Cosner transferred to the University of Tennessee, Knoxville, from East Tennessee State University, he was unsure of what direction his education would take. He recently had decided nursing was not for him and was in search of a new path.
Cosner's story as to how he chose plant sciences as his major is an interesting one. "As I was leaving transfer orientation, a man literally jumped in my way to ask me if I would be interested in horticulture. I said, 'Sir, I have no idea what that is but I'm about to leave.' He said 'Well, let me just have a few minutes of your time and tell you about the program.' That man was Dr. Andy Pulte."
Cosner went on to explain to Pulte that he had worked in landscaping for five years prior; he had simply never heard what he did called horticulture. Pulte convinced him, and Julian selected a major in plant sciences.
Fast forward a few years. Cosner, a graduate and working in a job in industry, ran into a previous professor, Jerome Grant. Grant asked Cosner about coming back for graduate school, and Cosner explained that he wanted to but had not been able to yet. Grant offered him a position as an assistant in his laboratory. Cosner graduated with a master's degree in entomology and is now pursuing his PhD in the same area of study.
Cosner recently was named an SEC Emerging Scholar. The SEC Emerging Scholars program is a highly selective program designed to give doctoral students an opportunity to learn about faculty jobs across Southeastern Conference (SEC) schools. The program also offers professional development opportunities such as CV review and networking. Along with this honor, Cosner was also selected as a co-recipient of the 2022 Friends of IPM Master's Graduate Student Award.
The faculty and staff of the Herbert College of Agriculture are exceedingly proud of Cosner and his accomplishments. Cosner lists his favorite parts of his time at Herbert as the annual Buggy Buffet, enjoying time in the UT Gardens, Ag Day, and the Arboretum's Butterfly Festival.
On his proudest accomplishments, Cosner says, "I am sincerely proud to have a supportive cast of passionate faculty members, loyal friends, a loving family, and an everlasting Savior that wants the absolute best for me and others in and outside of my career."
Herbert's students, faculty, and staff consistently embody the Volunteer spirit. Julian Cosner's story is a prime example of the care and intentionality that our faculty and staff exhibit daily in helping students achieve their goals.
For more information on the Department of Entomology and Plant Pathology, visit its website.